Posted by Dave C on 1st Aug 2018
The Hillgear team share a passion for the outdoors - walking, mountaineering, hill running, cycling, trekking, wildlife watching and outdoor photography. This year Dave C from Hillgear's Aboyne shop took part in the Lowe Mountain Marathon - his first ever. Read his story below:
"When I agreed to pair up with Bob on the Lowe Alpine Mountain Marathon it was late December and it seemed a long time away. Those six months flew by and before I knew it we were making final plans and preparations for the trip.
Katie and Bob were experienced Mountain Marathoners but Sam and myself were total novices and the delights of dehydrated foods, blisters and slit trenches were unknown to us. (In case anyone is eating whilst reading this I won't go into graphic details on slit trenches but it was one of those experiences you only want once !)

The LAMM is a test of endurance, stamina, teamwork, self sufficiency and navigation and this year was slightly different as the location was made known in advance due to the logistics of getting 700 runners across to the Isle of Harris. It also took place on Friday / Saturday to respect Sunday observance which still exits across the Hebrides.

So it was that on a sunny afternoon the Deeside Divas and the Deeside Duo set off from a sunny Deeside to arrive later that evening in an equally sunny Harris. The ferry crossing passed with conversations about which team would finish first and how much Harris gin it would cost the losers … or was it the winners, I never did figure out who was paying.

We quickly registered, checked kit again and were off to bed ready for the early start, myself and Bob under canvas with Katie and Sam enjoying the comforts of the VW.

The campsite was up early to the sound of the pipes giving time for porridge, coffee, more porridge, another check of kit and then a bit more porridge!

Before we knew it we were on the bus and off to the start – both Deeside pairs were doing the B Class category which only added to the rivalry which became apparent when we got off the bus. Bob and myself took a time to enjoy the views and look at the route checkpoints, whilst the Divas were away, gone, showing us a clean pair of heels.

It is fair to say that Harris is stunning and we were blessed with great weather so it was a great feeling setting off on what we knew would be a tough day. Unusually, there had been little rain on the island for a while so it was very dry underfoot, which helped in a lot of ways but I am sure contributed to blisters and foot problems by the end.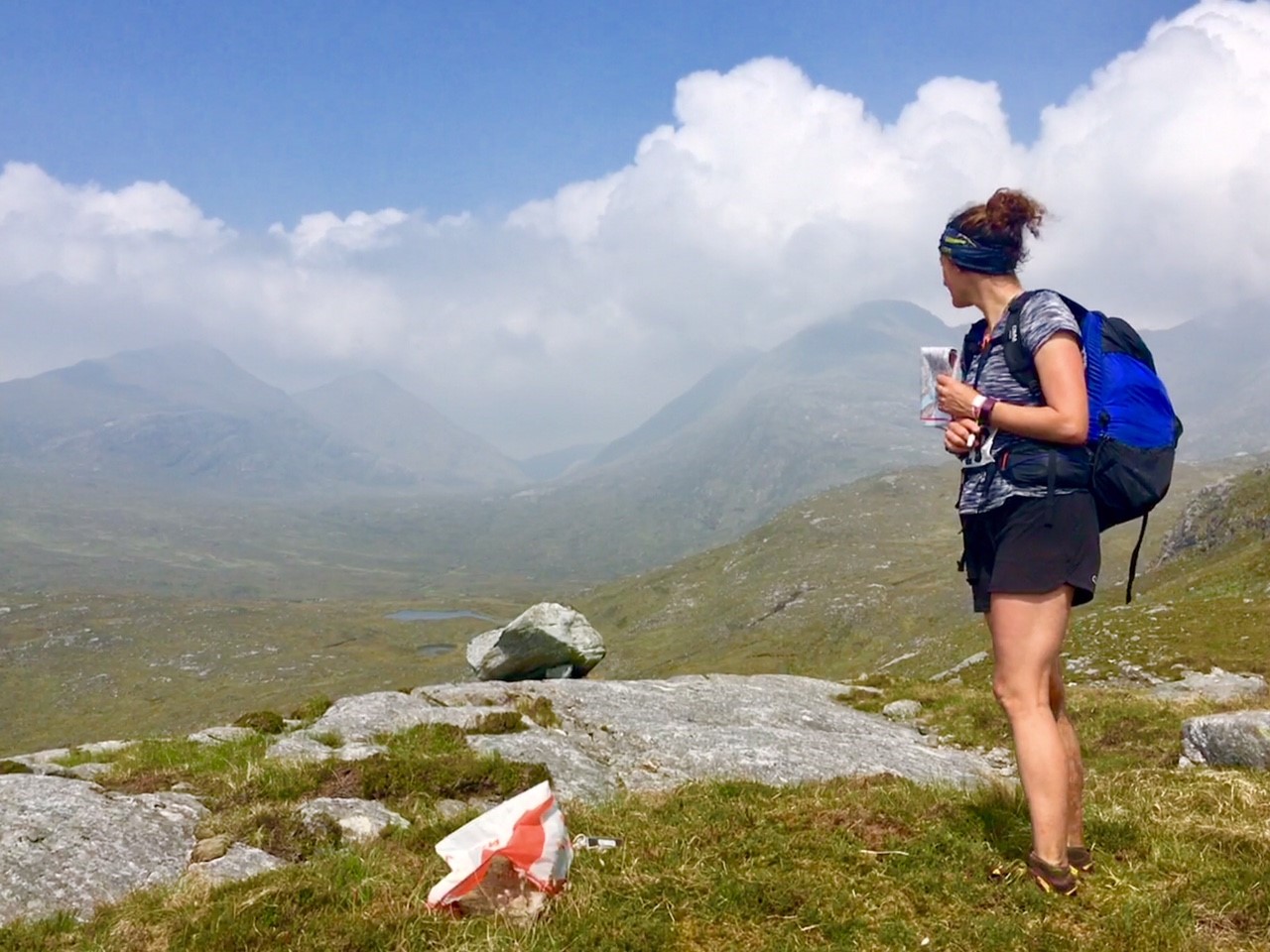 Have I really run all that way!

As we approached the end of day one we had made contact with the Divas but with a steep downhill section to the finish they left us (me in particular) so by the time Bob and I finished, a particularly spritely Katie had done a three lap cool down of the campsite, had a swim and a wash and looked ready for day 2.

Sam on the other hand was in semi meditative state in what I thought was a yoga pose, a bit like a snow angel but without the snow. She maintained this pose for a good few hours only responding in words of one syllable or less. She only regained a fully conscious state when fed the dehydrated Chocolate Chip Pudding which was a real hit (I've ordered more for the shop Sam).

I made the fatal mistake of sitting down, fatal because I then couldn't get back up and was periodically Immobilised by muscle cramps and spasms. The 100 metre walk to the beach took me an age and my only thoughts were "How do I do that again tomorrow!"

The evening was spent performing minor surgical procedures on blistered feet, infection control consisted of a safety pin being held in the flame of a gas stove and the final competitive act of the day was who could fit most compeed on their foot."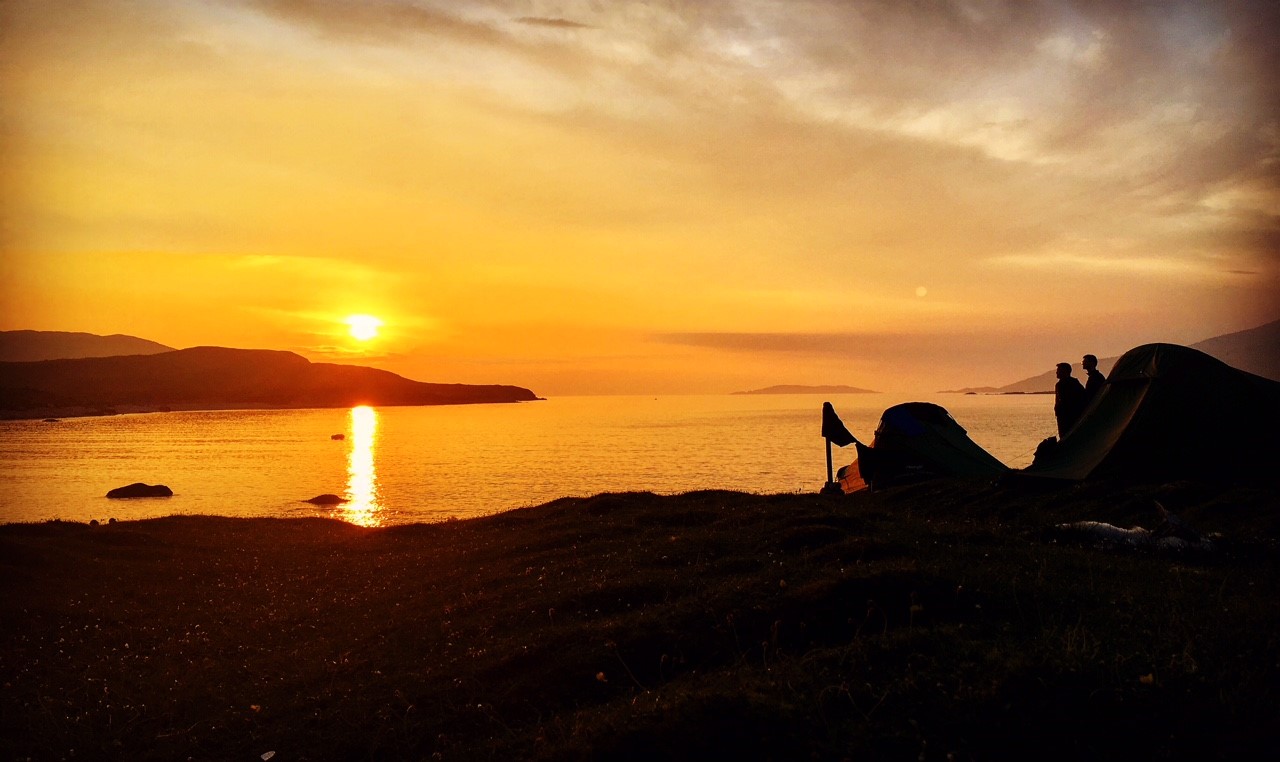 Sunset from our overnight camp

Read about Dave's experience on LAMM Day 2 - and the final results - in part 2 here>