Posted by Dave C on 2nd Aug 2018
Dave C from Hillgear's Aboyne shop continues the story of his first ever Lowe Mountain Marathon, on Harris in June. Read on for day two...

Overnight campsite – not a bad view !

Day two dawned and again the sound of the pipes told us it was time to get up. To my absolute and utter surprise I could walk unaided so with breakfast eaten it was time to start. Despite everything we had both made the chasing start but the Divas were a few minutes in front of us.
The day went well, we hit check points and had some interesting competition with teams around us and about 5k to go we caught up with the Divas, the competition was alive and well and truly on. At this point I made a bad tactical error. Katie complained of sore feet so I offered a couple of Ibuprofen. She took them and a couple of shot bloks and when they kicked in the Divas were away never to be seen again.
It was at this point Bob and I hit the wall, or more graphically more of a near vertical climb up the hillside. As the Divas skipped their way up we sat down, frequently, only making the top after much effort and sweat.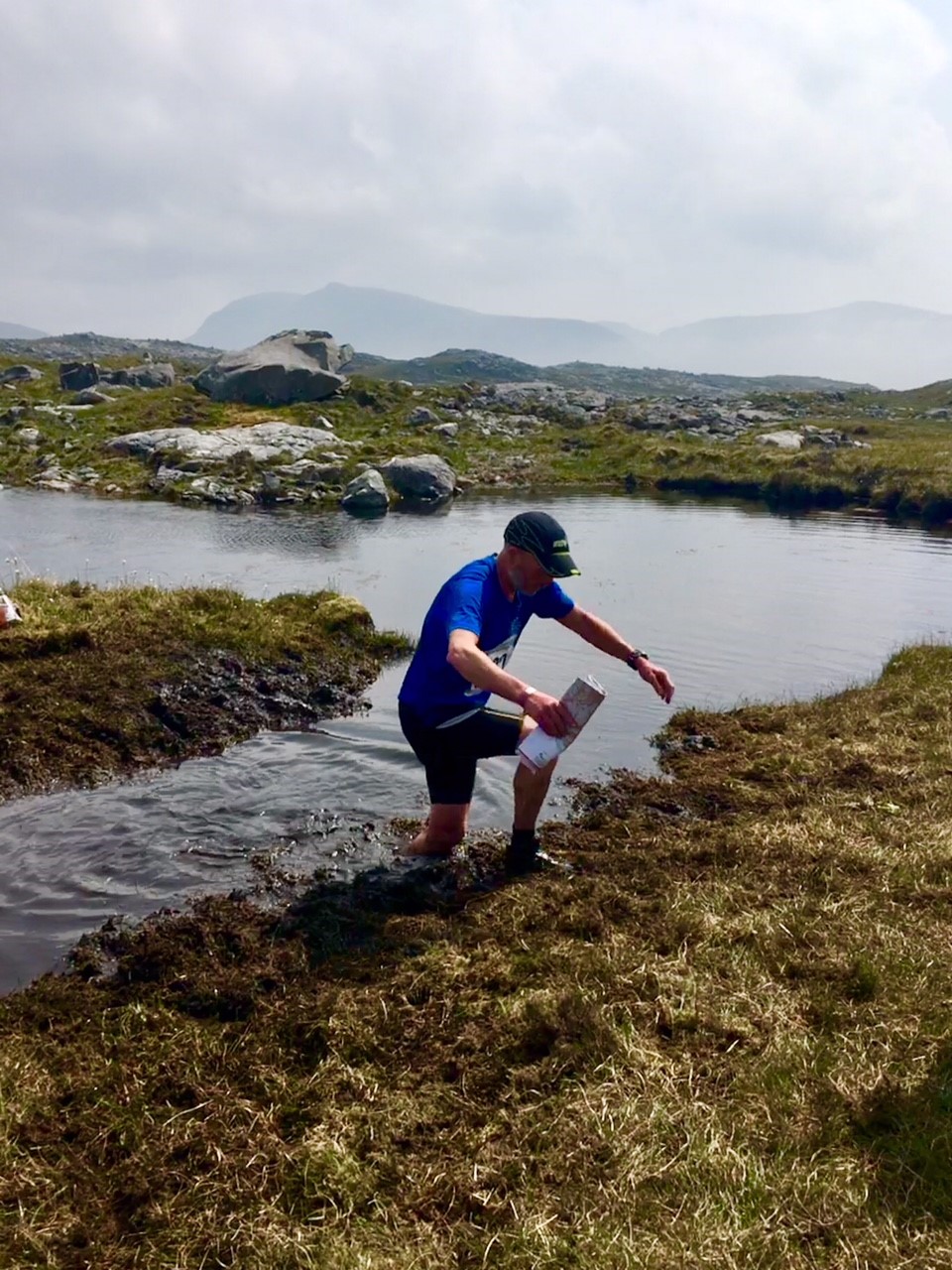 Lovely spot for a check point

From there it was downhill to the finish and we even managed a limping jog to the finish line. Katie and Sam were busy sunbathing and were quick to remind us they were first finishers – credit where credit is due they were awesomely strong on those final few kilomtetres.

And so we had done it – completed the LAMM. The Divas finished 15th ( Day 1 6hrs 36 mins / Day 2 7hrs 34 mins with an overall time of 14 hr 10 mins). The Deeside Duo finished 22nd ( Day 1 6 hrs 43 mins / Day 2 8 hrs with an overall total time of 14 hrs 43 mins)

On day one we covered 28 k with a height gain of 1600 mtrs and day 2 was 30 k with a height gain of 2000 mtrs.

After the prize giving ( which I had to give a miss due to the smell of food from the café making me feel decidedly sick) we headed off to find a nice cool river in which to was ease aching muscles – anyone watching would have wondered what healing powers were in the water as four apparently incapacitated individuals tried to get in and out of the water.

There then followed a pleasant evening in Tarbet, a couple of beers, a big portion of fish and chips and some great conversation reminiscing on two days on Harris. One of the things that struck me was the friendly, social feeling on the LAMM – chatting to people you knew, chatting to some you vaguely knew and chatting to some who you'd never met before. Like minded people sharing experiences and conversations on a pleasant Hebridean evening.

Would I do it again ? Well Sam and I have an agreement that if either of us utter a sentence containing the words " Enter Mountain Marathon" there is a permission to hold them and beat some sense into them !
A hobble on Luskentyre beach on Sunday morning before we caught the ferry back was interspersed with eating plenty to make up some of the calories lost. It was a good excuse to eat anything for the rest of the week.

There was a fifth Deesider there as well – Jenny Glass ran with an Edinburgh University colleague and looked glad to have finished but as always, did it with a big smile on her face – well done Jenny. And in the friendly nature of the event it was good to see a good representation from Cosmics including Ian Hamilton who often trains along with us.

It only remains for me to thank my three Deeside colleagues for playing their part in a great weekend, especially Bob for his navigation and support at times when I was struggling. The Divas were worthy winners of our informal competition, well deserved congratulations from me ladies.

A couple of links below to the results, and to a video made by two guys with a drone.
Results for LAMM 2018 - 01-Jun-2018 - B